The Secret of the Biological Clock
3 W, 2 M
Sixteen-year-old Jasmine's father has gone missing – but Jasmine just knows that she can convince former teen detective Eleanor Dawson to come out of retirement, she will be able to find him. The Secret of the Biological Clock is a whimsical riff on what happens to our favorite teen detectives when they grow up.
Upcoming 2019 Production at Eclectic Full Contact Theatre
Developed at The Playwrights' Center in Minneapolis
Reading at the Adrienne Arsht Center for the Performing Arts
Reading at Lost Girls Theatre
Reading at From Scratch Festival at the Deering Estate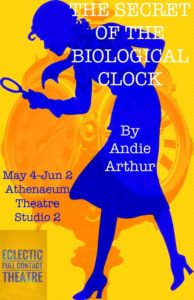 Juliet Among the Changelings
4 W
When she was a baby, Juliet's mother gave her up to a magical creature for everything her heart desired. At 17 years old, Juliet has spent her entire life torn between two worlds – the normal mundane world of school and the magical world of the women who raised her. Now Lavinia, one of the changelings that raised her, has a plan to get back to the fairy world. Except Juliet isn't entirely sure she wants to go – because her friend, the foul-mouthed rebel Miranda has a plan for her to find her birth mother. Before the Winter Solstice, Juliet must figure out who she really is – human, fairy, or something else.

Andie Arthur's Juliet Among the Changelings explores issues of identity in adolescence through Celtic myths about changelings and fairies, specifically drawing from the Scottish Ballad Tam Lin.
"Arthur is very good at creating strong female characters and beautifully depicts the budding romance between Juliet and Miranda." — Mary Damiano, South Florida Gay News
Produced at Lost Girls Theatre
Reading at Lost Girls Theatre
Rev. Nathaniel's Daughter
5 W, 2 M
Abigail Parker, daughter of the celebrated, late Rev. Nathaniel Parker, is returning to her hometown in Ohio after attempting suicide. Back at home, she finds herself attending services at her father's old Unitarian Universalist Church, where she is drawn to the new minister, Rev. Miriam. However, the congregation hasn't warmed up to Rev. Miriam in the same way Abigail has. As the congregation tears itself apart over its relationship with their minister, Abigail is forced to make a choice between an idealized past and an uncertain future. Rev. Nathaniel's Daughter is a drama about issues of power and privilege in congregational life, chosen family, depression, and Christmas Eve Services that are too Jesus-y.
Previously titled Such Tremendous Faith
Workshop at Florida International University's The Greenhouse
Workshop at the Playwrights' Center in Minneapolis
Reading at the Unitarian Universalist Congregation of Miami

In Common Hours
6 W, 3 M
Set at the cusp of the Civil War, In Common Hours tells the story of Louisa May Alcott's unrequited love for Henry David Thoreau and her quest to find her own place in a patriarchal society that does not value female intelligence, years before she wrote Little Women.
Finalist for the 2005 David Mark Cohen Award
Produced at the Theatre School at DePaul University
Produced at Marquette University
Reading at GableStage
Reading at the Broward County Library as a part of their Louisa May Alcott Festival
Selections Read at Chicago Dramatists
Outcasts of Eden
3 W, 2 M
In 1637, Mary Dyer has left the only home she has ever known to come to a New Eden in the Massachusetts Bay Colony, where she befriends and follows outlaw preacher, Anne Hutchinson. As Hutchinson's preaching tears the colony apart, will Mary follow her heart or her community?
Developed at The Playwrights' Center in Minneapolis
Reading at the From Scratch Festival at the Deering Estate
A Girl's Guide to Saving the Universe
4 W, 3 M
Penny Applebaum is an average college student, whose boyfriend, Will, happens to be the chosen one, the one destined to save Birenllor (a small, magical country that exists underneath a Chicago el station) from The Protectorate, a dark tyrant who has usurped the throne. Unfortunately for Penny, Will has fallen into shadow — and it is up to her to find him. With the help of a talking lantern, puppet squirrels and a college professor who moonlights as a wizard, Penny takes her own hero's journey through Birenllor and finds out that Will perhaps wasn't as valiant as he was prophesied to be.
Reading at The Naked Stage
Reading at Lost Girls Theatre